According to the approved laboratory research, this UVC Sanitizer travel wand is able to function well. It can be used on phones, laptops, keyboards, keys, toys, door knobs, toilet covers, mugs and more. Clean your gadgets anywhere you go!

Effective and Quick - There are many kinds of dust exist in our daily life. This travel wand has been scientifically proven to purify the air effectively. Whether you are at home, office, outing or traveling, you can easily carry it with you. Wherever you go, it is assured that you live in a clean environment.

Portable and Convenient to Carry - This handheld light has a retractable design which is super easy to carry UVC Sanitizer, you can put it in your pocket, backpack or handbag. No chemicals release during use, keep your stuffs clean and safe at the same time.

Easy to Use - Simply long press the touch switch 2 seconds to turn it on and short press 1 second to turn it off. The indicator light will be green while working. Please don't use UVC Sanitizer light on people's eyes and skin.
Protect Yourself and Your Family
                Small but Powerful & Effective
With pocket-size designed UVC sanitizer, you can comfortably on the go.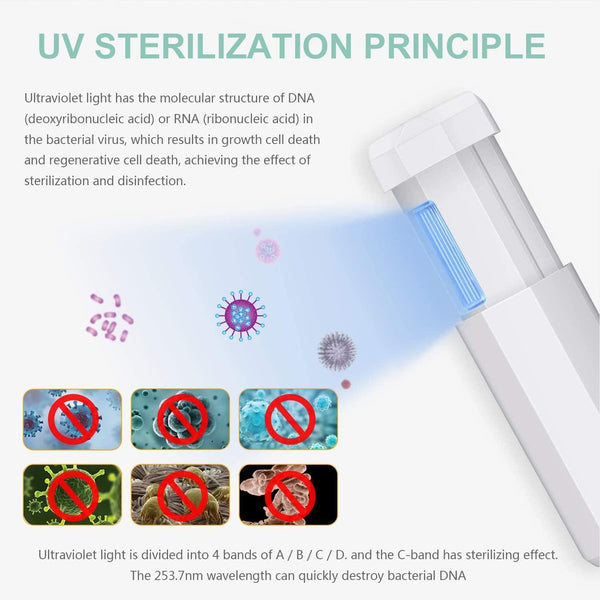 The mini UVC sanitizer can be used in personal daily necessities, mobile phones, keys, toys, door handles, chopsticks, restroom and anything you want.

Specifications:
Function: UVC Sterilizer

UVC Wavelength: 253.7nm

UVC Power: 7000uW/cm2 (very powerful and effective for sterilizations)

Power: 1W

Dimensions: 37.5 x 37.5 x 98 mm

Battery: 600 mAh

Endurance: 90 minutes

Power Input: 5V/1A

USB Port: Micro USB